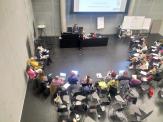 The Proteach partners enjoyed a five day workshop in the University of Saltzburg organized and led by Prof' Jean-Luc Patry & Lydia Linortner.
The workshop enabled the participants to learn more about VaKE (Values and Knowledge Education) through implementing the theory within the different sessions of the workshops.
The guest speakers of the workshop were: Sieglinde Weyringer, Angela Gastager, Sabine Harter, Daniela Martinek, Alfred Weinberger.
During Thursday and Friday the Tallinn University team; Eve Eisenschmidt, Merilyn Meristo, and Mihaela Stingu led a workshop on mentoring.
The participants enjoyed the city, the food and the music!