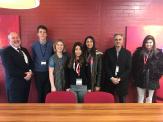 The 1st week of the visit to Exeter had just ended, followed by a stormy weather and a lot of snow that covered the city of Exeter.
The participant enjoyed an intensive study week, tours, lectures and conducting directed tasks in schools.
The main topics of the week were:
Introduction to Teacher Training in the UK
Introduction to the Exeter Model of ITE
Introduction to the Framework for Dialogue about Teaching
Completion of a Framework for Dialogue about Teaching Task (classroom management)
Introduction to Demonstration Record (pupils' learning)
Introduction to the UK school system
Details of school visits, expectations and rubric
Professional dress and behaviour
Introduction to the portfolio and tasks
Models of reflective practice
Professional learning
Professional identity
Factors associated with teacher retention
Reflecting on Beginning Teachers journeys as beginning teachers.
Considering those experiences in the light of the literature and relevant research.
School experience reflections
Share completed tasks
Implications for teacher induction and MITs
In few days, we will start with the 2nd week activities as all the Proateach members will join the group.